We all lose passwords, it happens to the best of us, and this is why we created the paper wallet. As a backup or safeguard if your passkey is misplaced. In this article, we are going to review what a paper wallet is and how to go about creating one.
A paper wallet is exactly that, it is a set of recovery keys that are printed on a piece of paper and can be kept in an offline location for safekeeping. We recommend all META 1 users create a paper wallet and keep it in a safe off-line location like a safe, with a loved one or in a safety deposit box. This is like the backup key to your safe, it needs to be stored in a very safe place.
1 -Be sure to confirm you are visiting the official META Exchange website
2 -Log in to your account and on the top left click where it says the dashboard

3 -Click on the dashboard to the left where it says "create paper wallet"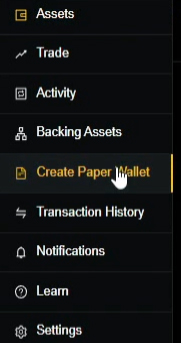 4 -On the top right click where it says "create paper wallet"

5 -A file will download to your computer containing your paper wallet.
6 -When you open your paper wallet, it should look something like this